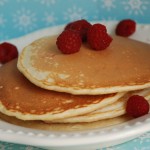 Breakfast is one of my favorite meals of the day. So much so, that I eat two breakfasts. That's right–two.
Imagine my delight when I found a way to turn this breakfast staple from a giant sugar bomb into something loaded with fiber, protein and even a little calcium. 
I eat them with a few fresh berries and maybe a poached egg on the side if I want a little extra protein for a tough morning workout. Enjoy!
Makes six 4 – 5" pancakes.
Ingredients
1/2 cup Oatmeal (I use Quaker Oats, not instant)
1/2 cup Cottage Cheese
1/2 cup Egg Whites
1/2 large
Banana (feel free to substitute 1/4 blueberries if you prefer)
1/4 tsp Cinnamon
1/4 tsp Vanilla Extract (optional)
1 tbsp ground flax seed (optional)
1/2 tsp lemon or orange zest (optional, but definitely adds that je ne sais quoi!)
And if you really want to get all crafty, add a dash of ground nutmeg
Directions
Put all the ingredients in a blender (I like my Magic Bullet) and puree until smooth and creamy. This makes up the pancake batter.
Heat a small pan over medium heat and lightly spray it with coconut oil cooking spray.
Pour enough batter into the pan so that it covers most of the pan's surface.
Turn the pancake once bubbles appear; cook all the way through but not too much.
You can eat them straight from the pan or put them in the refrigerator overnight so that you can heat them up in the toaster or microwave for a quick, convenient breakfast the next morning. They can store in the fridge for up to four days. You can also make a double batch and freeze a portion of them for use later.
Nutritional Facts
Each serving (2 pancakes) has about 115 calories, 14.5g carbs, 11g protein, 4g fat.
Give them a try and tell me what you think.
And if you've come up with healthier versions of favorite foods, share them here!