8-Week Challenge
There are always times when we want to tone up or drop a few pounds quickly to get ready for something big. A vacation. A special event. Summer and swimsuit season. An athletic event. And even if you don't have something looming over you and you just want to change up your routine for a while, my 8-Week Challenge program has everything you need to get results.
Exercise
Workout plans include the right mix of strength and cardio.
Strength training builds strong, toned muscles and torches calories. And, it's really the only thing that can actually change the shape of your body. All of the routines require only dumb bells and an exercise mat so you don't have to invest in a lot of expensive equipment and you can do them anywhere, any time—at home, outdoors, at the gym, or even in a hotel room if you're traveling. I know your schedule is packed and you don't have a ton of free time, so I kept them short and focused. It should take about 35-40 minutes to complete each strength workout.
Cardio torches even more calories and is a great active recovery from your strength days. You get to choose your favorite form of cardio on those days—hiking, jogging, the elliptical, a Zumba class—whatever gets your heart rate pumping.
Wondering what the workouts are like? Look at what Challengers had to say:

Food
Food is 85% of your success when it comes to achieving your fitness and health goals. I'll help you figure out what to eat and how much to eat to lose excess body fat. And, I've put together some simple resources to help take the guesswork out of healthy meals:
a guide to eating for fat loss
a complete shopping list
simple meal planning template, and
a ton of healthy recipes and snack ideas
a tip sheet with healthier choices at many chain restaurants and tips to make ordering at restaurants easier
Lifestyle
Losing weight and keeping it off is about more than just what you eat and how much you move. It's also about lifestyle habits. You'll learn about the common mistakes most of us make that sabotage weight-loss efforts and can actually harm our health–and how to avoid them.
Support & Accountability
You don't have to go it alone. Support and accountability are baked right in to the Challenge:
A simple food/exercise journal to keep track of meals and exercise, sleep, water intake and mood. Study after study shows that women who keep food journals consistently lose more weight (and keep it off) than those who don't because the data doesn't lie. Everything you're doing (or not doing) is right there.
A ton of great advice to help you make healthy choices and feel amazing.
Answers to your questions are just an email away.
So, what can you expect out of the Challenge?
Read Kristin's story …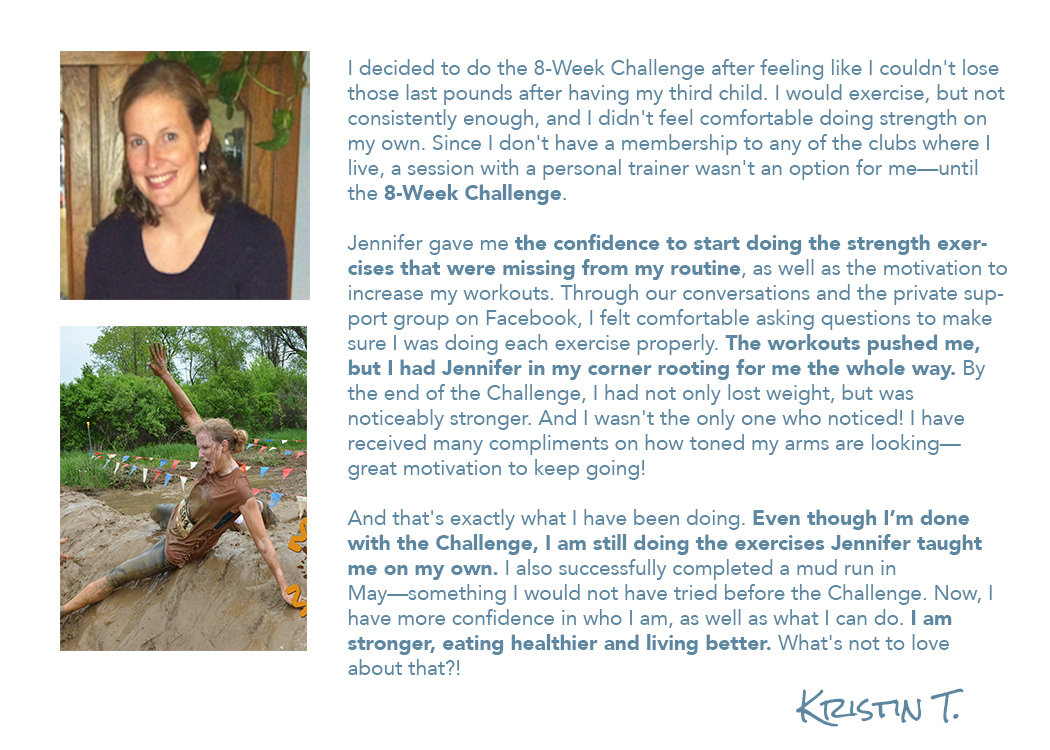 Ready to get started?
Good! Accept the Challenge now.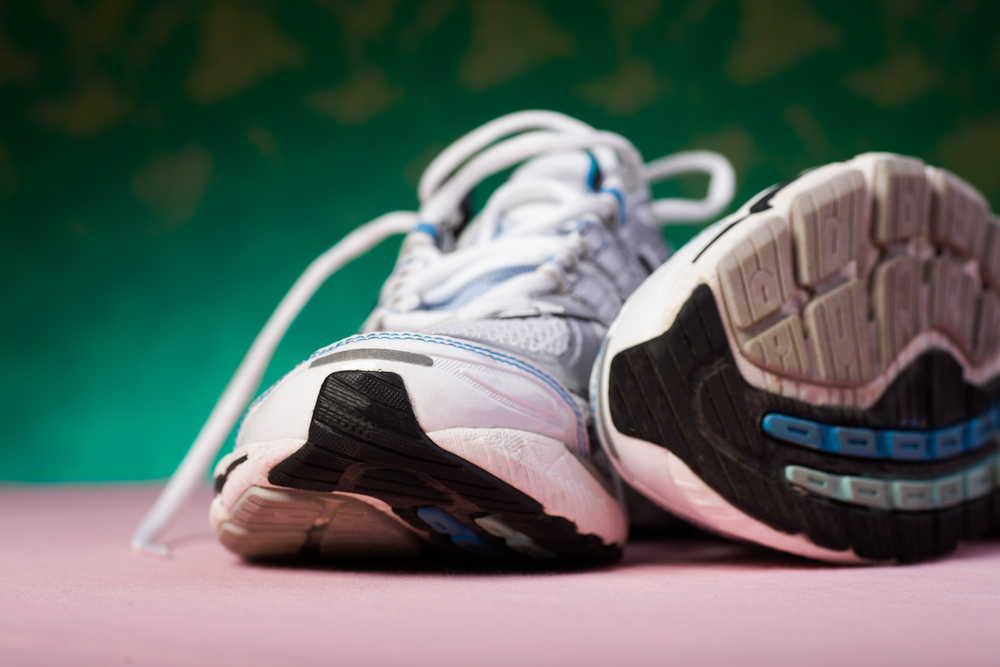 8-Week Challenge
Includes everything you need to to reach your goals: 8 weekly workout plans, support and accountability, nutritional advice and healthy recipe ideas, plus other tools that will help you succeed.
Not sure you're ready to accept the Challenge just yet? Get more details.