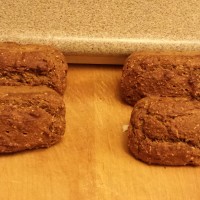 Delicious (and healthy) banana zucchini coconut bread recipe that's perfect for brunch, a quick snack or a treat when you want one.
I've reduced the sugar, removed the oil, upped the protein and mixed flours to make this a healthy version of an old favorite. Give it a try!
Makes 5 to 6 small loaves or 2 large loaves
Ingredients
Dry ingredients:
3 cups whole grain wheat flour (I substitute 1 cup all-purpose gluten-free flour and 1 cup coconut flour, but can mix flours as you choose…just leave at least 1 cup of whole grain wheat flour or 1 cup all purpose gluten-free flour as your base so your bread rises and has a good consistency)
1 tsp ground cinnamon
1 tsp ground ginger
1 tsp ground allspice
1 tsp ground cloves
½ tsp ground nutmeg
1 tsp fine sea salt
1 tsp baking soda
½ tsp baking powder
Wet ingredients
3 cups finely grated zucchini
4 small or 3 medium bananas, mashed
3 large eggs (organic, cage-free taste the best)
3/4 to 1 cup coconut palm sugar (blond)
2 tbsp brown sugar
1 cup non-fat plain Greek yogurt
3 tsp vanilla extract
Optional:
1 cup chopped almonds or pecans
Directions
Adjust oven racks so that one is in the middle. Preheat oven to 300 degrees
Grease loaf pans with butter, oil or baking spray
Combine the dry ingredients in one bowl. Beat the wet ingredients together in another bowl.
Gently combine the dry ingredients with the wet ingredients. Add the chopped nuts if you decide to use them last.
Pour the batter into the loaf pans.
Bake 60 – 70 minutes. Keep checking bread using a toothpick until it comes out smooth. It may take a little longer to cook depending on how much batter is in each pan (I fill it about ¾ to the top). Be careful not to cook too long though, otherwise the bread may be dry.
Keep the bread you plan to eat in the refrigerator to cut down on spoilage. You can freeze the rest!