Torch calories quickly with this no-equipment workout that takes only 25 to 30 minutes.
Don't forget to warm up before you start and cool down after you finish the workout. See the instructions on how to complete each move below. Questions? Send me an email!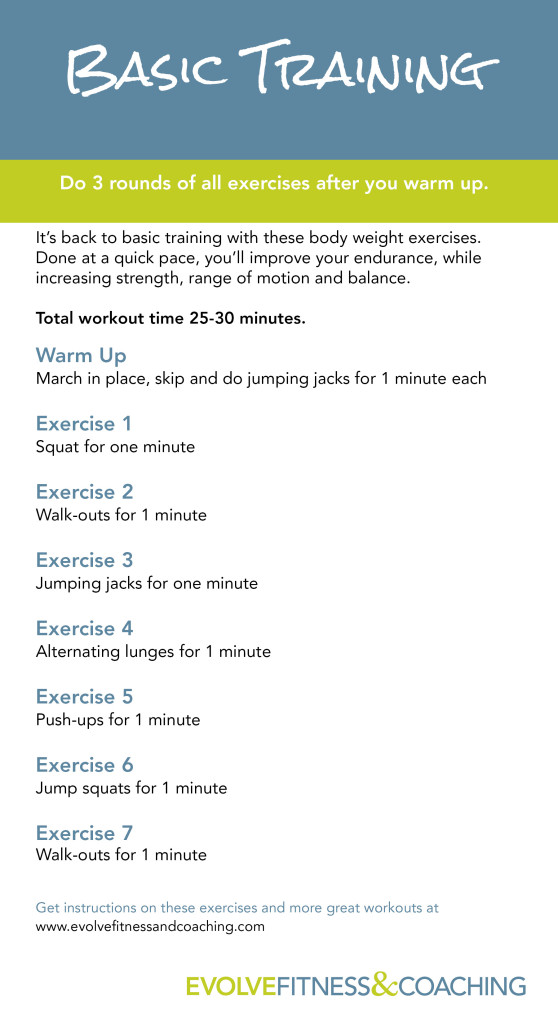 Print a PDF copy of the workout.
Learn how to do the exercises
Walk-outs
Stand with feet hip-width apart and arms extended at sides. Bend forward from hips and place hands on floo rin front of your feet. Walk hands forward until you're in a plank position. Walk your hands back to your feet (it's okay to bend your knees here), and stand back up. Repeat.
Jump Squats
Stand with your feet shoulder-width apart. Do a regular squat, sitting back as deep as you can. Dig your heels into the ground for balance. Then, jump up explosively, landing softly on your feet to protect your knees, and lowering your body back into a squat position to complete one rep.  Add intensity by increasing the height of your jump or the speed of your jumps.
Cool Down
Take a couple of minutes and stretch your muscles to cool down after this workout.