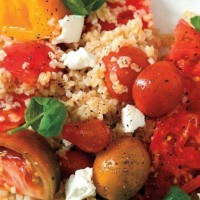 Here's a really simple and really delicious dish that's full of flavor!
If you haven't tried bulgur, it's a whole grain that's rich in fiber. Bulgur is made from steamed, dried and crushed wheat kernels. Tomatoes are at the peak of flavor in the summer and contain vitamin C and lycopene.
Serve this chilled or at room temperature. Since this makes 8 servings, it can last for other meals during the week, saving you cooking time.
Add some grilled chicken on the side for some additional protein.
Serves 8
Ingredients
4 cups water
2 cups bulgur
1 tsp grated lemon zest
¼ cup fresh lemon juice (about 2 lemons)
1 tsp kosher salt
¼ tsp freshly ground black pepper
3 garlic cloves, minced
1 lb mixed heirloom tomatoes cut into ½-inch wedges or pieces
½ cup thinly sliced basil
¼ cup crumbled pasteurized goat cheese (about 1 oz)
Directions
Bring water to a boil in a medium saucepan. Add bulgur. Remove from heat, cover and let stand for 20 minutes or until bulgur is tender and most of the water is absorbed. Drain.
Whisk together oil, lemon zest, lemon juice, salt, pepper and garlic in a large serving bowl. Add tomatoes and toss to combine. Let stand 15 minutes. Add drained bulgur and toss to combine. Garnish with basil and cheese, if desired.
Nutritional Facts
Per serving: 265 calories (eating with 3 oz of grilled chicken adds about 120 calories), 15g fat, 5g protein, 29g carbohydrates, 7g fiber, 35mg calcium.