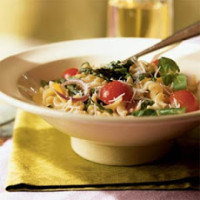 This recipe shows you that something gluten-free, dairy-free, egg-free, soy-free, vegetarian, vegan, optionally nut-free doesn't have to be taste free!
It's a great summer salad that takes only a few minutes to make.
And you can swap ingredients easily. Don't like peas? Substitute corn or another veggie.
Want to add some protein? Serve chicken or fish on the side, or mix into the pasta salad.
From Simply Gluten-Free Magazine
Serves 8-10
Ingredients
1 pound gluten-free brown rice fusilli pasta
1 pound asparagus, trimmed and cut into 1" pieces
2 cups fresh or frozen peas
2 cups cherry or grape tomatoes, diced (if you like, sub chopped heirloom tomatoes)
1 cup oil-packed sun-dried tomatoes, diced
½ cup fresh basil, roughly chopped
½ cup pine nuts (omit if you prefer nut-free)
1 tsp sea salt
½ tsp black pepper
½ cup extra virgin olive oil
3 tbsp champagne vinegar
1 tbsp fresh lemon juice
3 cloves garlic, peeled and quartered
1 shallot, roughly chopped
1 ½ tsp sugar
½ tsp sea salt
¼ tsp black pepper (or more to taste)
Directions
Bring a large pot of water to boil. Add the asparagus and peas, cook for 2 minutes. Remove right away with a slotted spoon or strainer basket.  Rinse with cool water to stop any further cooking.
In the same boiling water, prepare the pasta according to package directions. When done, drain and rinse with cool water.
In a large bowl, combine noodles, asparagus, peas, tomatoes, sun-dried tomatoes, basil, pine nuts, salt and pepper.
Place all of the dressing ingredients in a blender and blend until smooth. Taste for seasoning and add more salt and pepper if necessary.
Pour the prepared dressing over the salad and combine well. Serve at room temperature.
Unfortunately, the magazine didn't include any nutritional deets with this recipe.