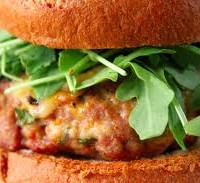 I tried this herbed turkey burger recipe the other night and … can I just say … it was about the best damn burger I've ever eaten!
The whole dinner took me about 15 minutes to put together (bonus!). And was totally filling, even with using one of those sandwich thin type of buns to keep the calories and the carbs on the lower side.
I skipped the mustard and used a big spoonful of guacamole and I dressed it with some arugula for even more spice. You'll be smacking your lips like I did after eating this!
P.S.: If you decide to make just one, I used just under 1/4 lb of meat to make my burger, 1 tsp of parsley and chives, 1/2 a garlic clove and just a dash of the paprika and cumin.
Serves 4
From Shape Magazine
Ingredients
Olive oil, misted
1 lb ground turkey breast
2 tbsp chopped fresh parsley
2 tbsp chopped fresh chives
2 cloves garlic, minced
½ tsp kosher salt
½ tsp freshly ground black pepper
1/2 tsp smoked paprika
1/2 tsp cumin
1 large tomato, sliced into ½-inch rounds
1 medium zucchini, sliced into ½-inch rounds
1 red bell pepper, sliced into strips
1 medium red onion, sliced into ½-inch rounds
4 whole wheat hamburger buns (I substituted sandwich thins)
Dijon mustard (I used guacamole instead)
Directions
Coat a grill with cooking spray, then heat into medium-high. In a medium bowl, combine turkey, parsley, chives, garlic, salt, and pepper until well mixed. Form into four patties, each about ½ inch thick, and place on grill.
Cook for 2 to 3 minutes, then turn and cook for 2 minutes more or until cooked through. Remove from grill and transfer to a platter to rest and let juices settle.
Place tomato, zucchini and onion slices on heated grill and cook, flipping once midway through for 2 to 4 minutes or until tender.
Place each burger on a bun bottom, then top each evenly with the grilled tomatoes, zucchini and onions. Cover with the remaining bun halves and serve with mustard on the side, if desired.
Nutritional Info
Per serving (1 burger): 338 calories, 11g fat, 34g carbs, 30g protein, 6g fiber, 64mg calcium, 3mg iron, 553mg sodium