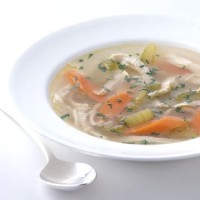 It's been pretty cold and rainy in Northern California over the past couple weeks. I'm thankful that I'm not having to live with and drive in all of the snow that has fallen in Tahoe, although I know that most will be super excited about the ski season all that snow will provide!
The cold and the wet make for perfect soup weather and over the weekend, I threw together a classic recipe with my own added twists. This recipe is super simple to make, and will provide meals for several days. I hope you enjoy!
Ingredients
1 roasted lemon herb chicken from the store (Whole Foods)
1 lemon, juiced
1 cup diced white onion*
1 cup diced carrot*
1 cup diced celery*
4 cloves minced garlic
1 cup frozen peas (optional)
1 1/4 tsp ground coriander
1 tbsp dried parsley
3 tbsp avocado or olive oil
2 cartons low-sodium chicken broth or stock
Salt and pepper
*Some grocery stores may sell pre-cut onion, carrot and celery, or a combined mix called "mire poix" Get enough to provide 1 cup of each to cut your prep time even further. 
Directions
Shred chicken from carcass and set aside.
Heat oil in stock pan over medium high heat. Toss in onion, carrot and celery and allow to soften (about 6-8 minutes). Add salt and pepper to taste and stir.
Add in minced garlic and stir for 30 seconds. Add in coriander and stir.
Add in chicken, peas, parsley and stock. Stir to mix.
Bring to a boil, and then turn down heat to medium low and allow to simmer for 20 minutes.
Add the juice of your lemon as the finishing touch. Stir well.
Allow the soup to cool and settle for 10 to 15 minutes before serving.