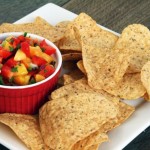 There are a few foods that I just can't resist. Fresh salsa and good tortilla chips are two of them. I made this peach salsa for my birthday dinner recently, and words couldn't express how awesome it was. Seriously.
Peaches aren't just delicious, they are really healthy. One medium peach provides 7% of your recommended daily allowance (RDA) for vitamin E and almost 10% of your daily fiber requirement for fewer than 40 calories.
From Fitness Magazine
Makes 6-8 servings
Ingredients
2 large peaches, with skin, pitted and diced

2 medium tomatos, seeded and diced

1/4 cup finely diced red onion

2 tbsp freshly squeezed lime juice

2 tbsp freshly chopped cilantro

1 tbsp minced jalapeño pepper, with seeds
Directions
In a bowl, combine peaches, tomato, onion, lime juice, cilantro and jalapeño.

Season with salt to taste and serve with tortilla chips or with grilled chicken or fish.
Salsa can be made up to several hours ahead and stored in the refrigerator.
Buying tip: Most of the peaches you find in the supermarket are freestone–the flesh tears easily from the pit, making them easy to eat. If you can find white peaches, buy them; they are generally sweet and juicy and often have very little fuzz. Beware…peaches won't ripen once they're picked so look for firm, perfumey fruit with a background color of yellow or warm cream. Store ripe peaches last in the fridge for up to 5 days. 
Nutritional Facts
Per serving? 45 calories per serving, 1g protein, 11g carbohydrates, 0g fat, 2g fiber
Like this recipe? Share it, email it, tweet it, pin it!