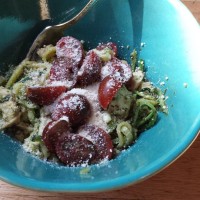 This week, I got it into my head that I wanted to try zucchini pasta, or zucchini noodles (affectionately known as "zoodles") because I really wanted pasta, but I have a hard time with regular pasta noodles. They hit my stomach like a lead balloon. Maybe it's all the flour. Maybe it's the gluten. I have no idea. What I do know is that when I eat traditional pasta, I feel like crap.
So, I wanted to find something that had a similar mouth feel to pasta and tasted just as delicious. Enter zoodles.
I made up this recipe based on the flavors I gravitate toward. I love baked chicken, fresh tomato, and kale. The kale is why I chose to use kale pesto rather than regular pesto made from basil. You can use any type of pesto you want for this healthy dish.
The end result was incredibly delicious and satisfying. Not to mention a whole lot healthier than traditional pasta would have been. I hope you enjoy!
Makes 2 servings
Ingredients
2 medium zucchini squashes
2 garlic cloves, minced
2 tbsp olive oil
1 boneless, skinless chicken breast
10 cherry tomatoes, halved
2 tbsp grated Pecorino Romano cheese
4 tbsp Kale pesto (store-bought–you can also buy regular pesto if you can't find kale)
OPTIONAL: Grilled asparagus or wilted kale
Sea salt or Kosher salt
Freshly ground black pepper
Kitchen Tools
Japanese mandolin or spiralizer
Strainer
Large non-stick skillet
Oven-safe glass or metal baking dish
Good sharp knife
Directions
Preheat oven to 350 degrees. Line a glass or metal baking dish with foil and place your chicken breast in the pan (it's good to make 2 or 3 breasts while you're doing this so you have leftovers for additional meals). Season as desired (I typically use salt, pepper and lemon juice/lemon zest). Add a bit of water into the bottom of the pan (about ¼ inch). Bake 30 minutes, and allow to rest for 10 minutes before cutting into bite size chunks to add to the zoodles.
Wash zucchini and pat dry. Using the large julienne attachment of your mandolin, grate the zucchini the long way to form your zoodles.
Mince garlic and have your salt and pepper shakers ready.
Heat oil in saucepan over medium to medium-high heat until it shimmers. Drop in garlic and zucchini, salt and pepper to taste, and sauté for 3 to 4 minutes, or until noodles are softened, but not too soft.
Take noodles out of pan and let sit in a strainer for a minute to drain (zucchini have a lot of water, and sautéing them lets that water out… you don't want that water to show up in the bottom of your bowl!).
Put the zoodles back into the pan, add the pesto and chicken, and stir until everything is coated.
Divide pasta mixture into two bowls. If you added wilted kale or roasted asparagus to the recipe, now's the time to add that to the top of the zoodles. Add cherry tomatoes and Pecorino cheese, and some freshly ground black pepper; serve immediately.