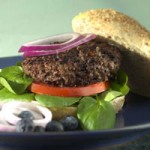 Burgers don't have to be boring. With all the different choices in meats and breads, you can make tasty burgers for days.
I stumbled on this recipe from Eating Well that looks delish, but has the added benefit of being healthy too. Add it to your repertoire tonight.
Take it up a notch in the nutrition department by adding dark greens, like spinach or kale. On the side, try some sweet potato fries (yum), or some sort of vegetable like broccoli or green beans.
From: Eating Well
Servings: 4; prep: 20 mins
Ingredients
2 slices whole-grain bread, crusts removed, torn into pieces
1/3 cup fresh or frozen and thawed blueberries
1 tablespoon balsamic vinegar
2 teaspoons Dijon mustard
1 teaspoon Worcestershire sauce
2 cloves garlic, minced
1/4 teaspoon salt, or to taste
Freshly ground pepper, to taste
12 ounces 90%-lean ground beef (Not a beef eater? Try turkey or chicken)
Directions
Place bread in a food processor and pulse into fine crumbs. Transfer to a large bowl. (No need to wash the work bowl.)
Add blueberries, vinegar, mustard, Worcestershire, garlic, salt and pepper to the food processor; process until pureed. Scrape into the bowl with the breadcrumbs. Add ground beef and mix well with a potato masher. Divide the mixture into four equal portions; form into 1/2-inch-thick patties, about 4 inches in diameter.
Meanwhile, preheat broiler or heat an indoor or outdoor grill to medium-high. If using the broiler, coat a broiler pan with cooking spray. If using a grill, oil the grill rack by rubbing it with an oil-soaked paper towel. Cook patties until browned and no longer pink in the center, 4 to 5 minutes per side. An instant-read thermometer inserted in the center should register 160 degrees F. Serve immediately, with or without rolls and toppings.
Nutrition Facts
Per serving: Calories 200, Total Fat 9 g, Saturated Fat 4 g, Monounsaturated Fat 4 g, Cholesterol 55 mg, Sodium 343 mg, Carbohydrate 9 g, Fiber 1 g, Protein 19 g.
Not a beef fan? Or, do you enjoy other types of burgers? Check out the Roasted Red Pepper & Feta Turkey Burger!