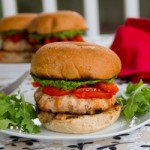 Sometimes, I just want a burger. But I don't eat that much beef, so when the craving strikes, this healthy turkey burger is a great option.
Roasted red bell pepper and feta give a savory flavor to the burger. Yogurt sauce adds a fresh tanginess. Top with spinach and cucumber for some added greens.
The recipe makes four servings. If you're not cooking for that many people, not to worry.
Make all of the turkey patties and store them in the fridge. You've got another meal or two ready to go!
From Women's Health Magazine
Makes 4 servings
Ingredients
1 lb fat-free ground turkey

4 oz fat-free feta cheese
4 oz roasted red bell peppers, chopped
1 egg
1/2 tsp ground black pepper
1 tsp lemon juice
1/4 cup fat-free plain Greek yogurt
4 whole wheat hamburger rolls
1 cup baby spinach
1/2 cup cucumber slices
Directions
Warm a pan over medium heat and coat with cooking spray.

In a bowl, combine first 5 ingredients and shape mixture into patties. Place in pan, cover, and cook for 7 minutes. Uncover, flip, and cook for 5 more minutes.
In another bowl, combine lemon juice with yogurt and set aside.
Serve burgers on rolls, topped with yogurt sauce, spinach and cucumber.
Nutritional Facts
Per serving (1 burger): 310 calories, fat 5g (1g saturated), carbs 26g, sodium 650mg, fiber 4g, protein 42g
Are you a fan of beef burgers? Try this blueberry beef burger recipe!