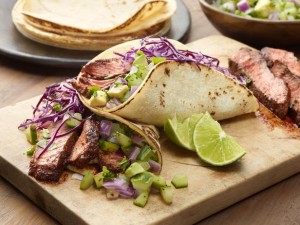 Maybe it's that Cinco de Mayo was this past weekend. Or maybe it's because I've been battling the stomach bug that's been going around and all I can think about are the things that I can't eat!
Either way, I've been obsessing about really good, fresh Mexican food and when I saw this recipe, I knew that I had to try it! I love healthy tacos, and these look especially delicious.
The spice of the chili rub, the bitter tang of the cabbage, the fresh taste of cilantro and the creamy tartness of the avocado lime salsa … it all sounds too good to pass up. Make these tonight and have one for me (since I can't eat any right now). Tell me how you like them in the comments below!
From foodnetwork.com
Total prep and cooking time: 47 minutes
Makes 12 tacos (2 tacos per serving)
Ingredients
1 tablespoon chili powder
2 cloves garlic, minced
1/4 teaspoon ground cinnamon
1/4 teaspoon salt
A pinch cayenne pepper
1 1/4 pound top sirloin steaks cut 1-inch thick
12 small corn tortillas (5 to 6 inches in diameter)
3 cups shredded red cabbage
1/2 cup chopped cilantro leaves
1 lime, cut into wedges
2 cups Avocado Lime Salsa (see below)
Avocado Lime Salsa (makes about 2 cups):
1 large cucumber peeled, seeded and cut into chunks (about 2 cups)
2 avocados, cut into chunks
1/2 red onion, diced
2 limes, juiced (about 1/4 cup)
Salt
1/4 cup chopped cilantro leaves
2 jalapeno chiles, chopped, plus more to taste
Place cucumber, avocado and onion in a large bowl and add lime juice and salt. Add cilantro and chiles and toss gently.
Directions
In a small bowl stir together chili powder, garlic, cinnamon, salt and cayenne pepper. Rub spice mixture on both sides of steaks.
Grill or broil steaks for 5 to 6 minutes on each side for medium rare, turning once.
Remove from grill and let meat sit for 10 to 15 minutes. Carve into thin slices.
Warm tortillas by placing them on the grill, for about 30 seconds, turning once. Or place 6 tortillas at a time between 2 moist paper towels and microwave for 45 seconds. Wrap in cloth napkin or place in a tortilla warmer to keep warm.
Place the carved steak, warm tortillas, cabbage, cilantro, lime and Avocado Lime Salsa in serving dishes and let diners make their own tacos at the table.
Nutritional Facts
Per serving (2 tacos): Calories: 386; Total Fat: 16 grams; Saturated Fat: 3.5 grams; Protein: 21 grams; Total carbohydrates: 41 grams; Sugar: 4 grams; Fiber: 8 grams; Cholesterol: 46 milligrams; Sodium: 258 milligrams